Transponder Car Keys expert at your service for 24 hours !!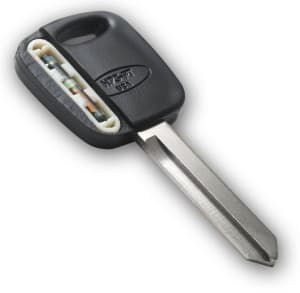 A transponder car key replacement in Harlingen TX is necessary for many instances. If the key is accidentally lost or broken, you need a new one in order to be able to operate the vehicle.Instead of depending on the dealership, which may take days to get a transponder car key replacement, you can depend on us and our quick car key replacement solutions. Our professional locksmith services in Harlingen Texas and surrounding areas are some of the best and this gives you peace of mind during the time when you're really frustrated.
Most of the new cars out there in the market require transponder keys to start. A transponder key uses microchips to send a low level signal to your ignition.Through this frequency identification , the receiver detects the correct serial number to unlock the door.Transponder key is quite similar to key fobs, but are often used with car locks and home security systems, as well as to open main entry gates and garage doors.
Here at Harlingen Locksmith Pros, we provide automotive locksmith services, which allows you to get what you need at the right time. We will come out day or night to your location to help you with a key replacement, duplication, or get you inside of a locked vehicle.Our technicians are experienced in both foreign and domestic cars. We also have advanced and latest equipment that make it possible for us to read the required coding reprogram transponder car keys.
We have gained trust factor and reputation in the community and look forward to continuing it.with full dignity You won't find such supportive and professional locksmith services like ours anywhere else!
The Dos And Don'ts Of Transponder Car Keys :
In order to make sure that you have full access to your car at all times, we have a few do's and don'ts for you to follow –
Do:
• Take good care of the car keys
• Have a replacement available with you
• Change the battery on fobs when needed
Don't:
• Use the key for other purposes
• Keep it near the magnets
• Ignore stress marks present on the key
Reach out to us to schedule a locksmith who can provide you with assistance with transponder car keys or other services.
Your Local, Mobile Locksmiths :
We are here as your local locksmith company. We work as automotive, commercial, and residential service providers in your neighbourhood. We offer security audits to increase security as well as make repairs and replacements. Also simple approach us to install advanced locks, repair ignition cylinders, and transponder car key duplication.
We are one of the leading brands in the industry, ensuring that you get high-quality safety and security in place. With our 24-hour locksmith services, it also allows you to call or reach us out during a day or night for locksmith assistance.
Our clients refer their friends, family and closed ones to us and we have maintained great reputation within the community for
• Upfront pricing
• Services with a smile
• High-quality installations and repairing
• 24 hours locksmith services available
• Licensed, bonded, and insured team
We are one of the industry leading brands who offer transponder car key reprogramming, duplications, replacements, and other lockout services. Our team of professionals have a minimum 5 years of experience.Anytime you need automotive locksmith services, we send our locksmith to your home, business, or anywhere else to help you 24/7. Just simply give us a call at – (956) 261-5978 .We are always here to take care of any problem and other locksmithing concerns you might have.